RAROTONGA COOK ISLANDS
septembre 2017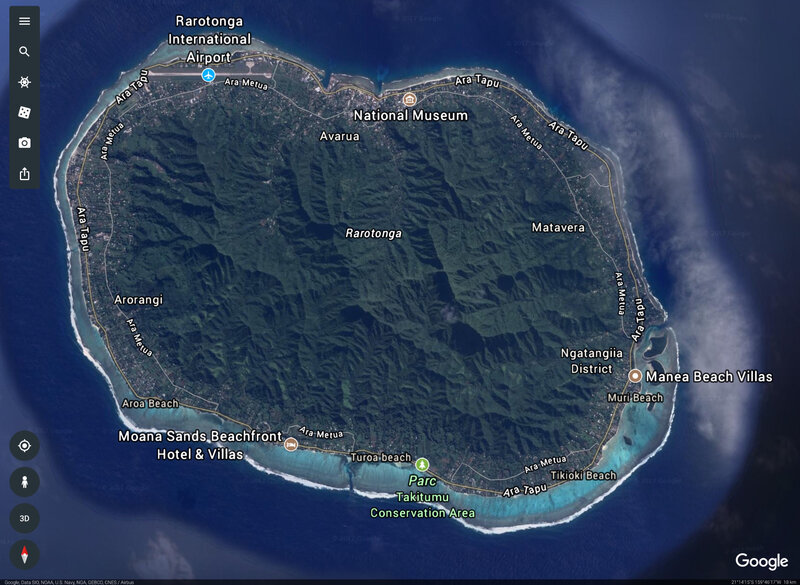 — LES MAREA GEANTS —
Comme à TAHITI très proche,
les missionnaires colonisateurs de malheur sont venus avec instruction de détruire la civilisation Maho'i ... "pour imposer le modèle occidental".
C'est historique.
Avec zèle et l'armée ils "éliminèrent" les tahu'a brulèrent les statues de bois cassèrent celles en pierre démolirent et firent piller les pierres des marae royaux
et se firent construire de nouveaux temples en y instituant cette fois ci de nouvelles idoles arabes judéo-chrétiennes ...
Les marae sont des autels honorifiques familiaux.
Les marae royaux sont donc monarchiques et construits de pierre jointives pavages murets d'enceinte et pyramide à gradins. Y étaient réalisés des actions d'égregores en soins agriculture élevage pêche navigation météo ...
L'écran tapu (interdit / sacré, ici c'est surtout "sacré") provoque des hallucinations de répulsion en odeur ouïe vision et choc, les celtes les appelaient "écran d'effroi".
Les anciens nous montrent une belle démonstration de leur savoir-faire pour duper les gens de robe génocidaires :
au lieu de détruire leurs fantastiques installations énergétiques ...
ils les ont GEANTIFIÉES les rendant ainsi indécelables sur place !
Les apprentis-sorciers qu'étaient ces gens de culte judéo-chrétien aux antipodes ne devaient être qu'amateurs sans bien maîtriser la radiesthésie …
>> Les tahu'a doivent encore bien en rire !
Respect les tupuna (anciens) !
RAROTONGA
C'est l'île capitale de ce petit archipel tout proche de Tahiti, sous protectorat Kiwi.
Y allant au début janvier, j'y inventorie les empreintes énergétiques majeures.
Comme par hasard notre hôtel est dans le site paradisiaque d'ilots de sable blanc en ouest, tout près de la BORNE R.C.I. est, et "la" Pyramide du Savoir de cette île ..;
Pour l'ancienne FRONTIÈRE je n'ai eu que ce ressenti ...
y avaient ils les RARO et les TONGA ?
Je vous raconterai !
à suivre.
(COMPUTER ENGLISH TRANSLATION)
— THE GIANT MARAE —
As to Tahiti very close, the missionaries colonizers of misfortune are come with instruction of destroy the civilization maho'i ... "for impose the occidental model".
That is historic.
Zealously with the army they "eliminated" the tahu'a people, burned the statues of wood, broke those in stone, demolished and made plunder the stones of Kings marae and is made build of new temples in there instituting this times this of news arab judéo-christian idols ...
The marae are of altars honours family.
The Kings marae are therefore monarchical and constructed of stone jointed pavages twin-walls with stairs-pyramid.
There were made of shares of egregores (laïcity miracles) in care agriculture, breeding, fishing, navigation, weather, ...
The screen tapu (prohibited / sacred, here that is especially "sacred") causes of hallucinations of repulsion in smell hearing vision and shock,
the celtic the called "screen of fright".
The Tahu'a /Tohunga of the past time show us one beautiful demonstration of them know-make for fool the "dress-people" genocidal :
at place of destroy their fantastic facilities energy ... they have giantly GROWED them,
making thus not being "see-able" on site!
The apprentices-wizards than were these people of worship judéo-christian to antipodes not should to be well control the dowsing ...
>> the tahu'a must still well in laugh !
Respect toward the tupuna's genious mind (ancient tahu'a)!
Rarotonga that is the island capital of this small archipelago all close of tahiti, under Kiwi protectorate.
There going at beginning january for holidays.
I'll inventoried the fingerprint energy major.
As by chance our hotel is in the site heavenly of islets of sand white in west, all near the terminal RCI is, and "the" Pyramid-of-know of this island ...
For the former border i have not had that this felt ... there had they the "RARO" and the "TONGA" groups ?
I'll tell you ...
to be continued.
————————————
LEXIQUE DICTIONARY
mémoire (memory)
C'est elle qui me permet d'accéder aux souvenirs du site
That is it who me allows of access to memories of site
Borne RCI (RCI terminal)
C'est un stockage d'énergie et de souvenirs, un neurone de Gaïa la Terre. Toutes communiquent entre elles. lien
http://tahitivortex.canalblog.com/archives/2015/11/08/32900414.html
That is one storage of energy and of memories, one neuron of Gaïa Earth. All communicate together.
Pyramide du savoir (Pyramid of universal Knowledge)
C'est le moyen d'apprendre toutes les connaissances des anciens stockées dans les bornes RCI.
That is the means of learn all the knowledge of maho'i stored in the Borne (terminal) RCI.
Réseaux Envol des Ames (Flight of Souls ways)
C'est la représentation maho'i de déplacement des âmes de tout vivant après la mort "vers le pays des ancêtres". lien http://tahitigeobio.canalblog.com/archives/2015/07/05/32317808.html
that is the maho'i representation of movement of souls of all living after the death "to the country of ancestors".
Djed (pillar) 300m high.
Tours Hocine (Hocine Towers)
Ces concentrations de "vortex" alimentent en énergie la trame ( dite Réseaux Sacrés) de rayonnement du métal Uranium chauffé dans le magma terrestre, énergie nécessaire aux "egregores-miracles" des Tahu'a (Tohunga). lien http://tahitivortex.canalblog.com/archives/2016/01/21/33244263.html
These concentrations of "vortex" feed in energy the network (called sacralised network) of Uranium metal heated in the terrestrial magma, energy necessary to "egregores-miracles" of the tahu'a (tohunga).
VORTEX = colonne d'énergie (energies column).
lien link http://tahitivortex.canalblog.com
Installations SAQQARA
Imothep le génial architecte égyptien reconstitua et étudia ces installations énergétiques naturelles dans sa pyramide Saqqara . lien http://tahitivortex.canalblog.com/archives/2017/07/29/35517335.html
Imothep the genius egyptian architect reconstituted and studied these "natural facilities energies" in his famous Saqqara pyramid (6 000 years ago).
Ecran tapu (sacralised fence)
Ecran d'effroi (fear fence)
lien : http://tahitigeobio.canalblog.com/archives/2017/11/24/35897787.html
Ecran de sol (Soil Screen)
Il repousse en sa périphérie les rayonnements du sol.
It push the soil-rays around it.
Marae royal (King marae)
Dimensions des marae avant 1787 = energies size of marae before 1787)
Marae actif = sacralized
empreintes = foot-prints
Ancienne frontière ? = countries border in the past ?
Cercles-médecine (Medicine-Circles)
lien http://tahitigeobio.canalblog.com/archives/2015/05/04/32003249.html

Eau miraculeuse (miraculous water)
la veine d'eau passant dans l'hyper-vortex apporte plein d'énergie dans son eau, tellement d'énergie que celle ci en est ... miraculeuse !
(comme en magnétisme, reiki, ceci est interdit aux femmes enceintes, enfants, cancéreux, et tout organisme à fragilité cellulaire).
the vein of water passing in the hyper-vortex brings full of energy in its water, so of energy that that this in is ... miraculous! (as in magnetism, reiki, this is prohibited to women pregnant, children, cancer, and all organism to fragility cellular).
Portes de pilotage = pilot door
Portes individuelles = private tahu'a doors
dessin, drawing : DOOR
—————————————————————-
SUR PLACE (on site) : janvier 2018
Je suis bien évidemment allé sur place dans AVANA Valley à la rencontre des savoirs de la Pyramide.
Un grand panneau "Keep-out private property" m'interdit l'accès au terrain.
Une petite méditation et je me projetais mentalement dans les salles d'Histoire et Energies pour y "télécharger" leurs connaissances.
Celles ci me seront comme connues depuis toujours, c'est ainsi qu'était fait l'enseignement des tahu'a ...
Vous pouvez le faire à distance depuis chez vous en vous concentrant sur le dessin.
Dans ma promenade deux grands chiens noirs m'ont comme guidé jusqu'un peu après le ponceau en béton d'accès au terrain, mais je me guidais au "bras tendu" en tapotant sur l'hyper-vortex émergeant de la Pyramide.
Le lendemain, nous faisons le tour de l'île en cabriolet, je suis attiré de toutes parts par des installations énergétiques majeures, et nous empruntons la petite route ARA METUA en nord du pont.
Un tumulus de pyramide de marae royal est construit de tombes bétonnées ...
Nous nous arrêtons devant une stèle des ruines d'un grand marae mais commenté d'une façon très occidentale ...
Dans le chemin l'entrée de l'hôtel, un mini-marae familial, un sympathique hommage !
Je transcrit mes ressentis deux jour après et les mémoires des tahu'a me guident chronologiquement dans le dédale des déplacements de réseaux Uranium effectués pour les mega-vortex d'egregores de marae, Tours Hocine, et ces deux Cercles-Médecine situés dans la petite rivière et son gué en amont du pont de la route de ceinture.
Comme d'habitude les portes de pilotage des vortex , ainsi que les portes individuelles des tahu'a me sont soufflées à l'oreille.
Je vous réalise mon dessin de ressenti de la pyramide.
Une dame entre en même temps que nous dans le hall de l'hôtel et recharge des flyers de son mari (Pa Teuruaa), guide et conteur de tranches de l'histoire de Rarotonga.
Il est surchargé de travail, enseigne l'usage d eplantes medicinales, il serait ... tahu'a me dit elle, je lui enverrai copie de cette étude.
Voilà, vous en savez autant que moi !
enjoy !

SUR SITE (on the site): january 2018
I am well obviously gone on site in AVANA valley to the meeting of knowledge of the pyramid.
... A big panel "keep-out private property" close the access at ground.
A small meditation and I go mentally in the rooms of history and energy for there "download" their knowledges.
Those this me will be as known from time immemorial, that is thus was done the education of tahu'a ... you can the make remotely since among you in you concentrating on the drawings.
In my walk two great black dogs have as guided to the little bridge in concrete of access at ground, but I work at "arm tense" feeling the hyper-vortex emerging of the pyramid.
The next day, we do the turn of the island in convertible, i am attracted of all parts by of facilities energy major, and we borrow the small road Ara-Metua in north of bridge.
A tumulus of pyramid of a King-marae (stones-pyramid with piloted vortex, and paved paepae) is built of modern chinese-look tiles roofed concrete tombs ...
We stop front a panel of ruins of marae ARAI TE TONGA, but commented an way very western ...out of real energies using in maho'i civilisation.
In the entry way of the hotel : AUROA a mini private family-marae, what a sympathetic homage to ancestors !
I transcribed my felt in these drawings two day after,
and the memories of many tahu'a give me chronologically in the maze of travel of networks uranium made for the mega-vortex of egregores of marae, towers hocine, and these two circles-medicine located in the small river and its ford upstream of bridge of the road of belt.
As of habit the doors of pilotage of vortex, as well as the doors individual of tahu'a me are blown to the ear.
I you realizes my map-drawings of felt of the pyramid. (drawings are always the best way to communicate).
A lady refill in hôtel the activities-flyers of its husband (Pa Teuruaa) guide and storyteller of his history'slices of Rarotonga.
He is overloaded of work, she says me he would be ... tahu'a (!)
I'll send him copy of this study.
You know as much as me about this RAROTONGA study in geobiology !
enjoy !
Jean-Charles SELLIER
"fenua tahu'a"
géobiologue radiesthologue
international dowser
Tahiti septembre 2017
Rarotonga janvier 2018
n°Tahiti 104372 artiste peintre,
pas d'application de TVA.
artist, no VAT tax
BLOGS :
http://tahitigeobio.canalblog.com
http://tahitivortex.canalblog.com
coupure de feu sang et douleur, et contact :
(free long-distance healer in burn, blood & pain, contact : )
moo-rea@mail.pf